Perdue Farms this week announced the retirement of Randy Day as Chief Executive Officer. Kevin McAdams will succeed Day.
Perdue's press release can be found here.
"After 43 years with Perdue, and the last six as CEO, I'm looking forward to spending more time with my family," Day said. "I appreciate the opportunity to serve this wonderful organization for my entire career. I know that I am leaving our company in good hands with Kevin, who possesses the values and leadership qualities to continue driving the business toward our vision to be the most trusted name in food and agricultural products."
"As a 103-year-old, family-owned company, we have been very deliberate in our succession planning and believe Kevin is the right person to lead the next chapter of our company's history," Perdue Farms Chairman Jim Perdue said. "I am personally grateful to Randy for his four decades of service to our business, his leadership, friendship, and contributions to our growth and success, and wish him the best in his retirement."
McAdams has served in various senior leadership roles, including at Red Bull North America, Coca-Cola, PepsiCo/Frito-Lay, Jack Links, Mizcan, Schwab's Consumer Brands, and Pabst Brewing Company. A graduate of Iowa State University with a bachelor's in political science, McAdams now transitions to the senior executive role at Perdue Farms.
"I am honored to be succeeding Randy as CEO of Perdue Farms," McAdams said. "Perdue boasts an unmatched, committed team of associates and strong network of family farmers who are integral to the company's ability to produce high-quality products that are trusted and recognized by consumers and customers nationwide. I am excited to lead this company in its second century of success."
Day joined Perdue Farms in 1980 and held various leadership roles throughout his 43-year career at the company. A native of the Eastern Shore of Maryland, where Perdue Farms is headquartered, Day is a graduate of Western Maryland College and the University of Maryland.
In Day's tenure at the company, Perdue has grown into one of the largest chicken production and agribusiness companies in the U.S.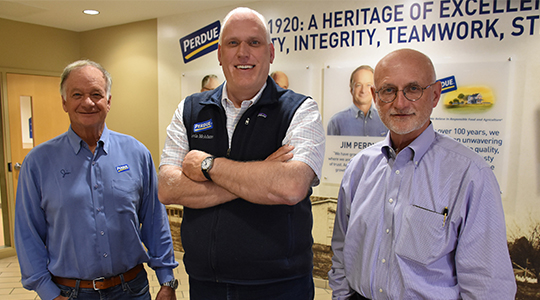 From left to right: Perdue Farms chairman Jim Perdue, incoming CEO Kevin McAdams, retiring CEO Randy Day. Image courtesy of Perdue Farms.